USB Multi Serial Interface Adapter - ANC-6204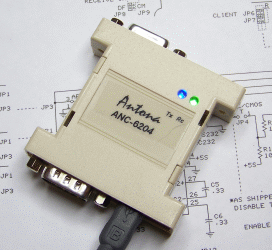 Low Cost USB to RS232, RS422, RS485 or TTL converter
Ideal for connecting a variety of serial devices to a computer using a USB port.
User set to interface as an RS232 Pc comport, RS422 4-wire interface, RS485 2-wire interface or TTL low level interface.
The adapter plugs into a Pc (or Mac) USB port, and appears like a serial interface to the user. FREE Shipping is included.
Features
USB 1.1 and USB 2.0 compatible
USB Powered, No external power supply
Baud rates to 921.6 Kbaud (tested to 1.2Mbps)
128 transmit buffer, 256 byte receive buffer
LED transmit and receive status indicators
RoHS Compliant: Lead Free parts, PCB and construction
RS-422/RS-485
Meets or beats EIA-485 and EIA-422 signal level specifications
RS422 SMPTE pin compatible (female DB-9)
Transmit data at distances up to 4,000 feet (1,219.2 m)
4 wire full duplex or 2 wire half duplex operation
Operate in multidrop (RS-485) or multipoint (RS-422) applications
Selectable data loopback or echo suppression
Choice of fixed or auto controlled transmit and receive (AutoXmit)
Terminate resistor jumper (120 ohms) on input
RS-232
Meets or beats EIA-232 signal level specifications
Pin compatible to a PC comport (DCE, male DB-9)
TTL
Input / Output jumper for USB to TTL serial interfacing
Input voltage protected ( -7v to +12v )
Unique/Advanced Features
Unique to ANC-6204:
Internal adapter version using a PC expansion bracket - ANC-6204S
Pads on PCB to install custom baud rate crystal
Both RS232 and RS422, RS485 or TTL transmit output are enabled
Both RS232 and RS422, RS485 or TTL receive input are jumper enabled (usable one at a time)
Advanced Features:
Permanent USB readable serial number - use as software encryption dongle (FTDIChip-ID)
LEDs maybe reprogrammed to display other device status (power on, sleep mode, RS485 transmit, etc.)
USB programmable 128 byte EEROM
300 baud to 3 Mbaud user programmable range (1Mbaud limit for RS232 operation)
Hardware Specifications
Mechanical/Connectors
Adapter case size: 2.5" X 2.2" X 0.7" (LWH)
3 foot USB type A connector cable to PC or MAC
Male DB9 for PC RS-232 serial comport operation
Female DB9 for SMPTE RS485/422 and TTL interfacing
Electrical Specifications
Voltage: +5v from USB port
Current: 100 ma for long and/or terminated cable applications
RS-485/422 output drive: short proof output, non-terminated operation to 150 feet, terminated operation to 4,000 feet.
RS232 output drive: short proof output, under worse case conditions, 5v switching to exceed 3v EIA RS232 specification
Software Driver
The converter runs under Windows 98, 98SE, ME, 2000, XP, 2003, VISTA, CE, Linux 2.4 & Linux 2.6.9 and later, FreeBSD 6.0 & MAC OSX. Linux 2.6.9 and later, FreeBSD 6.0 and MAC OSX directly support the ANC-6204 without installing drivers.
Adapter Software
Updated 05/09/17 16:00
Copyright © 2008-2017 Antona Corporation, L.A.,CA.,U.S.A.